Alicia Caticha
Assistant Professor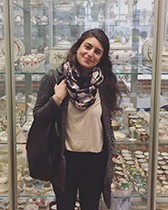 Where did you grow up, and where did you study? 
I was born in Campinas, Brazil, and grew up outside of Albany, New York. I went to NYU where I studied Art History and minored in French. I then got my Ph.D. at the University of Virginia. 

How did you develop your area of study, and how has it modified or developed?
I have always been interested in Art History. I deeply love historical fiction and romance novels. I think I have always gravitated towards the decorative arts because I want to know the stories of people in the past that I would read novels about. I want to understand their lives through the things they touched, how they existed in space. It was when I studied abroad in Paris, France, that I knew I needed to study the eighteenth century. There I started my first original research project on the iconoclasm of the Cathedral of Notre Dame in Paris, in which the revolutionaries systematically decapitated the façade sculptures of the Gallery of Kings. The human impulse to decapitate inanimate objects fascinated me to no end and really spoke to the power art and objects have on our daily lives.

Can you tell us about your current book project? What are you working on right now that excites you the most?
I am currently working a book project titled "Sculpting Whiteness in Eighteenth-Century France."  It predominantly takes up networks of sculptural production in the mid-eighteenth century consisting of marble sculptures, porcelain statuettes, and sugar sculptures. I aim to understand how these three types of sculptural forms replicated each other throughout the spaces of the aristocratic elite, and in doing so, understand how the paragon of whiteness—as skin color and sculptural default—came to be. In short, I aim to answer the question: why do we associate marble with white skin?
I have also written on the history of fashion—one of my first articles was on the big poufs, or hairdos, of Marie Antoinette! My next project will definitely be fashion related. In the meantime, I am going to make sure to include a lot of fashion history in the courses I teach.

What do you enjoy most about teaching? 
I get really excited when talking about the eighteenth century. Teaching is my avenue to tell people stories about the past, and ideally, get them as excited as I am. I especially love talking about eighteenth- and nineteenth-century pop culture – especially historical humor!
 
What is something non-academic that you are proud of accomplishing? 
I have somehow become a pseudo-expert on the British Royal Family! During the pandemic I began instagramming my thoughts on Meghan Markle and Prince Harry stepping down from official royal duties. Before I knew it, I had gained a little social-media following!

What made you particularly interested in coming to Northwestern?
Among the many academic reasons, I actually have a sentimental connection to Northwestern! My Ph.D. advisor, Professor Sarah Betzer got her Ph.D. here under Professor Hollis Clayson. In a sense this makes Professor Clayson my "Ph.D. grandmother." It has felt really special following Professor Clayson's academic footsteps.
Additionally, as someone who is a big fan of the Royal Family, Northwestern is Meghan Markle's alma mater! Princess Diana also visited Northwestern in 1996. Don't forget that one of her most iconic outfits is a Northwestern sweatshirt paired with a Gucci bamboo handle tote! Outside of the English Department, there is even a plaque commemorating Princess Diana's visit to Northwestern. It felt like fate that I was going to be able to teach here!

Is there an experience you'd like to share from your first weeks at Northwestern?
It has just felt so rewarding to be on campus and meet students in person. Having those personal interactions are just so much more difficult to have through a computer screen.
Back to top