Antawan Byrd
Weinberg Fellow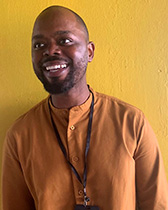 Where did you grow up, and where did you study? 
I grew up in Washington, D.C., and studied Art History and Digital Media Design at Temple College as an undergrad. I have since received my M.A. at Northwestern and am currently rounding out my Ph.D. at Northwestern. 

How did you develop your area of study, and how has it modified or developed? 
I loved the challenge of writing about art and majored in Art History in college, but Africa was always referenced in an unsubstantial way, and I wanted to know why there were no courses around this subject of modern and contemporary African art and the African diaspora offered at Temple. I did independent research and study, reading about the development of African art which opened my eyes to apply the writing of art to African artists. I went to Lagos, Nigeria and looked at contemporary art. Traveling around South and North Africa gave me a larger view of the debates occurring within this field of art and set the stage to study as a graduate at Northwestern where my focus on African art blossomed. 

Can you tell us about your current projects? What are you working on right now that excites you the most?
I wrote my dissertation on studio portraiture of the mid–20th century and specifically observed how studio portraiture took off during the same time as the radio became popular, so people went to art studios with radio sets. I focus on how these people try to be seen as listening subjects, with broader questions arising between sound and image in an African context. This is especially interesting as being seen with radio also had a political connotation, as politically many things were in flux at the time. I have been fascinated by this through projects that link African visual representation through sound representation. Additionally, I worked on an exhibition at The Art Institute that dubbed on these areas of sound in the form of an exhibition. My master's thesis was also based on a contemporary sound artist and I hope to center this focus on presenting soundscapes and music in my first book project. 

What do you enjoy most about teaching? 
I enjoy the conversations, the enthusiasm, and the imagination that students from other disciplines bring to art-related questions. The questions students ask force you to think more broadly, and constantly adapt your own way of thinking about the broader implications of a question someone is asking. Teaching is a great way to research certain topics and see how students respond to new readings. I try to revise the narrative based on the student responses to certain topics. 

What is something non-academic that you are proud of accomplishing? 
I got very into cycling during the pandemic and love to put my phone away as I cycle on the lakefront, decompress, and challenge myself. I also often participate in indoor rowing. 

What made you particularly interested in coming to Northwestern?
I was particularly drawn to Herskovitz's Library for African Studies from the political posters to periodicals directly related to my research, to photographs, and how I could bring students in my classes to this wonderful library. Krista Thompson and Hannah Feldman have also been a huge influence on my research and I was enthusiastic to work with them. The museum collections of both Chicago and Evanston, from The Block to The Art Institute of Chicago and MCA, offer spaces where you can go and see top-notch exhibitions within the art world. 

Is there an experience you'd like to share from your first weeks at Northwestern?
I have been inspired just by interacting with faculty members and seeing their research and passion. 
Back to top