Thadeus Dowad
College Fellow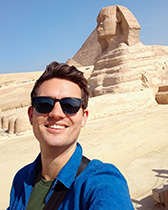 Where did you grow up, and where did you study?
I was born in London, but my family emigrated to Los Angeles when I was little because both of my parents worked in the film industry. I studied at a French school for my first ten years in LA before transferring to an American high school. I matriculated to the University of Pennsylvania in Philadelphia for undergrad. I received my M.A. at Williams College and my Ph.D. at UC Berkeley.

How did you develop your area of study, and how has it modified or developed?
When I was an undergraduate, I gravitated to the study of eighteenth- and nineteenth-century European art because of my background in French. I also began studying German in college, and I ended up writing my thesis on the German realist painter Adolf Menzel. At Williams, I started to think more about Europe's colonial history, and began focusing my interests on French Orientalist painting. In my first year of graduate school at Berkeley, I visited Istanbul as part of a travel seminar and was immediately struck by the city's unique art and architectural heritage. I returned to Berkeley committed to studying Turkish and the Ottoman Empire. I now research and write about the intertwined histories of Ottoman and French art and architecture in the age of European imperialism (18th-19th centuries).

Can you tell us about your current projects? What are you working on right now that excites you the most?
I am currently working on an article on the eighteenth-century French painter Jean-Marc Nattier and his highly unusual portrait of Madame Clermont, Louis XIV's eldest daughter. What fascinates me about the painting is that Nattier depicts the royal sitter scantily dressed in an imaginary Ottoman bathhouse surrounded by a cadre of black attendants who bathe and dress her. The painting offers a racialized vision of elite womanhood through the lens of Ottoman courtly culture, where gendered black subjects (especially the Chief Black Eunuch) were prominent features of the households of Ottoman royal women. As the portrait was produced at a high-point in the history of French slavery in the Caribbean, Nattier's painting suggests that the Ottoman Empire (or at least France's incomplete understanding of it) was a source of racial knowledge for French elites. For women in particular, dressing up à la turque became an effective mechanism of visualizing their position at the head of an emerging slave-owning empire.

What do you enjoy most about teaching?
I really enjoy that back-and-forth of conversational learning. I invite students to bring in their own experiences and values as a basis to expand their understanding of art-making and its many histories. The interpersonal aspect of learning is what got me into art history in the first place. For me, these conversations bring art and history to life.

What made you particularly interested in coming to Northwestern?
Northwestern has historically been an amazing place to study and teach 19th-century art. I feel very lucky to be at an institution and a city where there are so many great resources for studying the period, whether it's the superb collection of Daumier prints at the Block Museum or the galleries of Impressionist masterworks at the Art Institute. Getting the chance to bring students into these spaces and learn directly from objects is a huge joy.
Back to top