Talia Shabtay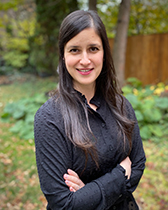 Talia Shabtay specializes in modern and contemporary art of the twentieth- and twenty-first-century United States, with a focus on the intersections of art, technology, and knowledge production. Her dissertation examines the visual practice of artists and scientists who utilized or invented new technologies for seeing the world beyond the limits of the unarmed human eye. In attending to the emergent interface between the human eye and the machine during the mid-twentieth century, the project reframes art historical debates about opticality, scale, and the human body. Additional research interests include the history of photography, the interplay between technology and modernity, theories of perception and cognition, history of computing, and artificial intelligence.
Talia's work has been supported by a Henry Luce Foundation/American Council for Learned Societies Dissertation Fellowship in American Art, the National Science Foundation, a Smithsonian Institution Predoctoral Fellowship at the Smithsonian American Art Museum, and a Mary and Leigh Block Museum Curatorial Fellowship. At Northwestern, Talia is affiliated with the Science in Human Culture program.
 Selected Publications
"Trevor Paglen: Sites Unseen," caa.reviews, 2019.
"Goldsholl Vision: Systems of Display, Technologies of Design" in Up Is Down: Mid-Century Experiments in Advertising and Film at the Goldsholl Studio, exhibition catalogue, edited by Amy Beste and Corinne Granoff (Mary and Leigh Block Museum of Art, 2018).
"The Art and The Politics of The Forgotten Space," Oxford Art Journal, Vol. 38, No. 2 (June 2015): 263-282.
Back to top