Claire Dillon
Undergraduate Alumna
B.A. Art History, 2014, Northwestern University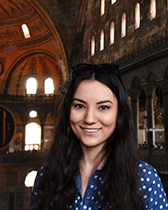 1) Could you tell us a little about yourself today?
I'm currently a Ph.D. student in the Art History & Archaeology Department at Columbia University, and my research interests focus on artistic exchange in the medieval Mediterranean.
2) What made you become an Art History major?
Studying art history provides a great opportunity to critically engage with the visual material we encounter everyday, and it helped me develop the reading, writing, and research skills to do so. I actually declared the major before taking an art history class because I had always been interested in the arts; ever since, it has opened many doors to do exciting work, travel, study several languages, and visit and work with different art institutions at home and abroad.
3) What experiences with art were most important to you as a student at Northwestern University?
There are too many to list! Some formative experiences include examining prints and manuscripts up close at Deering Library and the Art Institute, a gallery tour with Lane Relyea's Contemporary Art Survey, and my work as a curatorial intern at the Museum of Contemporary Art Chicago. My classmates and I co-curated a print exhibition at the Block Museum, which was an exciting opportunity to apply what we had learned in a seminar with Christina Kiaer. I also very much enjoyed the Block's docent program, because I was able to learn about their exhibitions in greater depth, and it provided some early training in teaching and speaking about art. With a Warnock Travel Grant, I learned about Cuban art in Havana, and even had a conversation about René Magritte with film director Fernando Pérez. Finally, when I studied abroad at the University of Bologna, Clementina Rizzardi brought her students to see the mosaics of Ravenna, and no words can describe what it is like to be surrounded by them in person.
Support from the art history department made these experiences possible, and it continues to have an impact. As I further my studies, I have often revisited readings that I first encountered in Christina Normore's methods seminar and other classes. Whenever I travel or see an exhibition, I inevitably come across something that connects back to lessons from the department, ranging from the churches of Rome to Kara Walker's work displayed in Chelsea (and I thank Jesús Escobar and Hannah Feldman, respectively, for their lectures!).
4) What did you do when you first graduated and how did it lead to where you are now?
I worked as the Director of Education and Outreach for the Chicago-based nonprofit ART WORKS Projects, which uses art to raise awareness of human rights issues. From there, I completed an internship on Rapa Nui (Easter Island) and earned a MPhil at Trinity College Dublin as a Mitchell Scholar, before moving to New York — art history can truly take you anywhere.