Elizabeth Morrison
Undergraduate Alumna
B.A. Art History, 1990, Northwestern University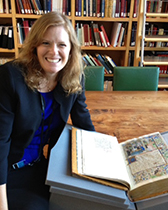 1) Could you tell us a little about yourself today?
Since 2010, I've served as Senior Curator of Manuscripts at the J. Paul Getty Museum in Los Angeles. I have curated over a dozen exhibitions and have published on both Flemish and French illumination. I've been on the boards of the International Center of Medieval Art and the Medieval Academy of America. In January 2020, I take over as Vice President of the Association of Art Museum Curators. 
2) What made you become an Art History major?
When I was fifteen years old, I discovered medieval manuscripts, and I was sold. I didn't have the chance to actually hold a manuscript in my hands until my time at Northwestern, and that experience is as special to me today as it was then because it solidified my desire to pursue art history as my main field of study. Medieval art history demands the study of not only art, but also history, languages, paleography, material study, and literature. It combines so many fascinating aspects of the past, that sometimes I don't really understand why everyone isn't a medieval manuscripts art historian. I feel like I have absolutely the best job in the world because manuscripts are my passion.
3) What experiences with art were most important to you as a student at Northwestern University?
My freshman year, I was able to start taking classes with Prof. Sandra Hindman, who clearly shared my excitement for manuscripts and was ready and willing to mentor me. My senior thesis was on a manuscript at the National Library of France that she just happened to have in microfilm form, which eventually became part of the subject of my PhD dissertation at Cornell. Many years later, Sandra left NU to become a dealer in manuscripts, and now the Getty purchases objects from her. It seems amazing to me that I have known her since I was seventeen years old.
Another important experience was the opportunity to be an intern at the Chicago Art Institute my senior year at NU. I was assigned to the Decorative Arts Department, where I was in charge of cataloguing the Arthur Rubloff Collection of over 1400 paperweights. It was a recent gift and I did everything relative to the collection, from giving each object its accession number, to writing that number carefully on the bottom of each paperweight, to creating a typed index card (this was 1989, after all) on every single one with a description. I was delighted to see that the collection now has its own dedicated gallery at the AIC. The experience sharpened my hunger to work at a museum.
Lastly, my senior year, I took a seminar on museum studies, led by the director of the Block Museum. Our final project was to propose a real acquisition with a budget of $500. I proposed a sixteenth-century illuminated Spanish choir book leaf, which was I thrilled that the museum actually acquired. Just last year, Melanie Garcia Sympson, Curatorial Associate at the Block and former intern in my department at the Getty, informed me that she ran across the leaf, which is still in the collection. That was my very first museum acquisition!
4) What did you do when you first graduated and how did it lead to where you are now?
I've been fortunate to have a rather linear and straight-forward career path. I went directly from NU to Cornell, where I did my PhD. The Getty was my first paid job in the field, where I started in 1996 in the Department of Manuscripts as a curatorial assistant. Next July will be 25 years in the department for me, and I can hardly believe it- I've loved every minute of it.