Kari Rayner **NEW**
Undergraduate Alumna
B.A. Art History, 2011, Northwestern University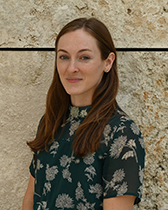 1)    Could you tell us a little about yourself today?
I am an Associate Conservator of Paintings at the J. Paul Getty Museum in Los Angeles. I specialize in the study, preventive care, and treatment of easel paintings, primarily from the 15th through 19th centuries, with a particular interest in the 18th century. While I am originally from the Midwest, I really enjoy living in Los Angeles and exploring the West Coast.
2)    What made you become an Art History major/minor?
I always liked drawing and painting as a child and considered it a hobby, but I credit my high school Humanities course for my appreciation of art history. I still vividly remember many of the works we studied, and I was fascinated by what art and artifacts can communicate about how people lived and what they valued throughout human history.
However, I wasn't sure what a career in art history might look like, and I entered NU with an undecided major. Serendipitously, my first quarter, I enrolled in a Freshman Seminar called Chemistry of Art taught by Professor Northrup. This course introduced me to the field of art conservation and the study of art's materiality. It was a turning point that set me on the path to pursuing a career in conservation
The prerequisites for a graduate degree in conservation include coursework in studio art, chemistry, and art history or related fields, such as anthropology or archaeology. With the goal of fulfilling these prerequisites, I pursued a major in Art History, with a second major in Art Theory and Practice.
3)    What experiences with art were most important to you as a student at Northwestern University?
Some of my most formative experiences with art involved looking closely at artworks in person at the Art Institute of Chicago for my art history coursework. I found that I loved formal analysis and the opportunity it provided me to consider an artwork deeply. To this day, I feel a strong bond with some of the works I studied and wrote about, such as Henri Matisse's Interior at Nice and René Magritte's Time Transfixed at the Art Institute. I also frequented the Museum of Contemporary Art and the gallery scene in Chicago.
My art historical background entering Northwestern was primarily European-centric, but NU broadened my knowledge base and perspectives through courses such as Chinese Architecture, Photography of the African Diaspora, and Latin American Art History. In addition, although I had grown up drawing and painting in a tradition of realism, my art theory and practice coursework encouraged me to experiment with other media and to create artworks that were more conceptual in nature.  
During my junior and senior year, I was also employed part-time at the Block Museum of Art as an assistant in print, drawing, and photograph conservation. I enjoyed engaging with the day-to-day activities of the museum, and I found the practical hands-on experience both invaluable and rewarding.
4)    What did you do when you first graduated and how did it lead to where you are now?
Upon graduating from Northwestern, I was fortunate to be accepted into the Conservation Center of the Institute of Fine Arts at New York University, a four-year graduate program in New York City that offers dual Master's degrees in art history and art conservation. I received these degrees from NYU with a specialization in paintings in 2015. Subsequently, I completed fellowships in paintings conservation at the Hamilton Kerr Institute, University of Cambridge; the National Gallery of Art in Washington, D.C.; and The Metropolitan Museum of Art in New York prior to accepting a position at the Getty in 2020.