Adrian Randolph
Henry Wade Rogers Professor of the Humanities; Dean, Weinberg College of Arts and Sciences
Ph.D.,1995, Harvard University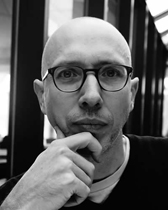 Adrian Randolph is Professor of Art History. His work examines medieval and Renaissance Italian art and architecture, with a focus on Florence. Research interests include gender, politics, poetry, space, sense and emotion in relation to fifteenth-century Italian, and especially Florentine painting, sculpture and architecture. His current research considers Donatello's Mary Magdalen, and issues of cultural, material and biological hybridity. Before joining the faculty of Northwestern, Randolph was Leon E. Williams Professor of Art History at Dartmouth College, where he was also Director of the Leslie Center for the Humanities. With Mark J. Williams he co-edits the book series Interfaces: Studies in Visual Culture (University Press of New England).
Program Area: Early Modern, Medieval
Regional Specialization: Europe
Selected Publications

Adrian W. B. Randolph, Touching Objects: Intimate Experiences of Italian Renaissance Art (New Haven & London: Yale University Press, 2014).

Adrian W. B. Randolph, Renaissance Love: Eros, Passion, and Friendship in Italian Art around 1500, co-edited with Jeanette Kohl and Marianne Koos. Berlin & Munich: Deutscher Kunstverlag, 2014. Including the essay "Michelangelo's David Uncut."

Adrian W. B. Randolph, "Republican Florence, 1400-1434," in Renaissance Florence, ed. Francls Ames-Lewis (Cambridge: Cambridge University Press, 2011).