James Rondeau
President and Eloise W. Martin Director of the Art Institute of Chicago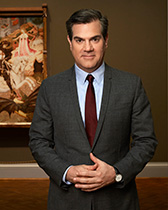 111 S. Michigan Ave., Chicago
James Rondeau is the President and Eloise W. Martin Director of the Art Institute of Chicago. Prior to this position, Rondeau led two of the eleven curatorial departments at the museum as the Dittmer Chair and Curator in the Department of Modern and Contemporary Art from 2004–2015, as well as Chair and Curator of Photography from 2008–2009.

Mr. Rondeau holds a B.A. in American Civilization from Middlebury College (VT) and an M.A. in the History of Art from Williams College (MA). After serving as the Associate Curator of Contemporary Art at the Wadsworth Atheneum in Hartford, Connecticut, he joined the Art Institute of Chicago in 1998, as an Associate Curator of Contemporary Art and rose to become department chair in 2004. From 2004-2015, he defined the museum's internationally respected contemporary art program, taking on the additional interim role of Chair and Curator of Photography from 2008-2009. Over the course of his tenure, he secured numerous major gifts, most notably in 2015, when he ushered in the largest gift of art in the museum's history—the Edlis/Neeson Collection.
Mr. Rondeau has organized over 30 solo exhibitions with artists such as Shirin Neshat (1999), Thomas Hirschhorn (2000), Olafur Eliasson (2000), Stan Douglas (2000), Rineke Dijkstra (2001), Gaylen Gerber+Stephen Prina
(2002), Arnold Odermatt (2002), Marlene Dumas (2003), Yoshihiro Suda (2003), Mark Manders (2003), Margherita Manzelli  (2004), Roni Horn (2004), Anri Sala (2004), Iñigo Manglano-Ovalle (2005), Michael Asher (2005), Cecilia Edefalk (2006), Maureen Gallace (2006), Mel Bochner (2006), James Bishop (2008), and Vincent Fecteau (2008).

He has also been responsible for large survey exhibitions with artists Jeff Wall (2007, exhibition organized by Museum of Modern Art, New York), Jasper Johns (Jasper Johns: Gray, 2007, co-organized with Douglas Druick and named "Best Monographic Museum Show Nationally" by the American section of the International Art Critics Association), Cy Twombly (Cy Twombly: The Natural World, 2009), Roy Lichtenstein (Roy Lichtenstein: A Retrospective, 2012), Steve McQueen (2012), Christopher Wool (Christopher Wool, 2014), and Charles Ray (Charles Ray: Sculpture, 1997–2014, 2015). Presently he is collaborating on a retrospective exhibition of the Brazilian artist Hélio Oiticica (2017).

Mr. Rondeau has published and lectured extensively, with 13 exhibition catalogues to his credit, numerous essays and articles, and talks from Basel to Madrid and from New York to San Francisco. He has published scholarly contributions in catalogues for Tate Gallery, London; Museum of Modern Art, New York; Solomon R. Guggenheim Museum, New York; Kunstmuseum, Bonn, Germany; Fundación La Caixa, Madrid; Henie Onstad Kunstsenter, Oslo; ArtPace, San Antonio, Texas; Kunsthalle, Bern, Switzerland; Biennale of Sydney, Australia; Venice Biennale, Italy, among others. Rondeau has received many professional honors and has served on various advisory councils and boards, including the Poetry Foundation in Chicago, and as a panelist for the National Endowment for the Arts and the Institute for Museum and Library Services; the commissioner and co-curator of the U.S. Pavilion at the 49th Venice Biennale featuring artist Robert Gober; and as a visiting faculty member at the University of Illinois, Chicago.
Back to top