Antawan I. Byrd
Assistant Professor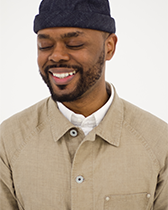 Antawan I. Byrd is an art historian and curator. He is an assistant professor of art history at Northwestern University and a faculty affiliate of Northwestern's Program of African Studies. 
His work focuses on the art and culture of Africa from the late-nineteenth century to the present. Byrd's research investigates histories of entanglement between Africa and the world, especially those mediated by sound technologies, largescale exhibitions and biennials, the circulation of photography, popular culture, and theories and practices of Pan-Africanism. Byrd is especially drawn to analytical models and interpretive methods that accommodate polycentricity and non-linear approaches to time. He is at work on a book-length manuscript that elaborates his dissertation research in addressing the impact of listening and sound technologies on the visual culture of sixties-era politics (decolonization and civil rights struggles). 
As a curator, Byrd has extensive experience collaborating with living artists and interpreting historical collections at institutions ranging from independent art spaces to encyclopedic museums. As an associate curator of photography and media at the Art Institute of Chicago, Byrd recently co-edited the Art Institute of Chicago Field Guide to Photography and Media (2023) and curated Mimi Cherono Ng'ok: Closer to the Earth, Closer to My Own Body (2021). He co-curated The People Shall Govern: Medu Art Ensemble and the Anti-Apartheid Poster (2019). The publication for the latter, which Byrd co-edited, was ranked among the "Best Art Books of 2020" by the New York Times. At Northwestern University's Block Museum of Art, he co-curated Kader Attia: Reflecting Memory (2016). Byrd was a curator for the second edition of the Lagos Biennial of Contemporary Art (2019) and an associate curator for the tenth edition of the Bamako Encounters, Biennial of African Photography (2015). From 2009 to 2011, he was a Fulbright fellow and curatorial assistant at the Centre for Contemporary Art, Lagos. 
Byrd's research has been supported by an Andrew Mellon-COSI Fellowship and a Mellon-CLIR Pre-Doctoral dissertation fellowship. He is a recipient of the Emily Hall Tremaine Foundation Exhibition Award (2021) and the Award for Curatorial Excellence from the Arts Council of the African Studies Association (2017). 
He is currently curating (with Adom Getachew, Elvira Dyangani Ose, and Matthew Witkovsky) a survey exhibition on the art and cultural dimensions of Pan-Africanism from the 1920s to the present. The exhibition will open at the Art Institute of Chicago in December 2024, and subsequently travel to the Museum of Contemporary Art, Barcelona, and KANAL-Centre Pompidou, Brussels.
Program Area: Africa, Photography, Global Modern and Contemporary, 
Regional Specialization: Africa, African Diaspora