Jesús Escobar
Associate Professor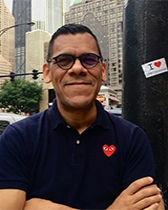 Jesús Escobar arrived at Northwestern in 2008 and chaired the Department of Art History for seven years between 2010 and 2018. He is a scholar of art, architecture, and urbanism in early modern Spain and the larger Spanish Habsburg world. His first book, The Plaza Mayor and the Shaping of Baroque Madrid (Cambridge University Press, 2003; paperback, 2009), explored the interchange of architecture and politics in the evolution of Madrid from a secondary city of Castile to the seat of a global empire in the late sixteenth and early seventeenth centuries. The book won the Eleanor Tufts Award from the American Society for Hispanic Art Historical Studies and was published in a Spanish-language edition in 2008 by Editorial Nerea. His second book, Habsburg Madrid: Architecture and the Spanish Monarchy (Penn State University Press, forthcoming in 2022), examines government buildings and public spaces built and shaped between 1620 and 1700 from local, regional, and global vantage points. Other recent and ongoing projects consider the monastery-palace of El Escorial, transatlantic Renaissance and Baroque religious architecture in the Spanish Empire, and the historiography of seventeenth-century architecture in Spain. With Michael Schreffler of the University of Notre Dame, he is at work on another book tentatively titled Architecture in the Spanish World, 1500 to 1800.
Professor Escobar serves as Editor for the scholarly book series, Buildings, Landscapes, and Societies, published by Penn State University Press. He is also an editor for the Grove Encyclopedia of Latin American Art and Architecture, a member of the National Committee for the History of Art, and an active participant in a number of professional societies. His research has been supported by grants from the Fulbright Program, the National Endowment for the Humanities, and the Center for Advanced Study in the Visual Arts at the National Gallery of Art in Washington, D.C. At Northwestern, he is co-Principal Investigator for the Chicago Objects Study Initiative, a collaborative project with the Art Institute of Chicago and the University of Chicago funded by the Andrew W. Mellon Foundation. 
In 2020-21, Professor Escobar will teach Introduction to Latin American Art (ART HIST 235) and an intermediate-level lecture course on Baroque Art in Italy and Spain (ART HIST 340). Additionally, he will co-teach the first-year graduate Mellon Objects and Materials Seminar with Claudia Brittenham of the University of Chicago and Jill Bugajski of the Art Institute of Chicago. In late summer, he is scheduled to lead the graduate art history Summer Seminar Abroad in Madrid, postponed from 2020 owing to Covid-19. Professor Escobar welcomes applications from prospective graduate students interested in architecture, urbanism, and cartography in early modern Spain and its transatlantic empire, as well as the study of architectural and artistic exchange across the Spanish Habsburg world.
Program Area: Architecture and Urbanism, Early Modern
Regional Specialization: Latin America and the Caribbean, Europe
Regional Interests:  Architecture and urbanism in the Spanish Habsburg world, Baroque visual culture, early modern cartography 
Selected Publications
Jesús Escobar. "Philip II and El Escorial." In Oxford Bibliographies in Art History. Ed. Thomas DaCosta Kaufmann. New York: Oxford University Press, 27 June 2017.
Jesús Escobar, "Map as Tapestry: Science and Art in Pedro Teixeira's 1656 Representation of Madrid," Art Bulletin 96/1 (2014): 50-69.
Jesús Escobar, "Architecture in the Age of the Spanish Habsburgs," Journal of the Society of Architectural Historians 75/3 (2016): 258-262.
Back to top