Hamed Yousefi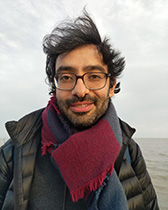 Hamed Yousefi (he/him/his)
I study modern and contemporary art, focusing on the convergence of modernism and Islamic mysticism in Iran. My dissertation, titled "The Secularity of the Avant-garde and Other Modernist Mysths: Art and Spirituaity in Iran During the Cold War," investigates the understudied role that Sufism and mystic thought played in the establishment of modern art in Iran before the Islamic Revolution of 1979. In it, I argue that Iranian artists were not only inspired by the visual and literary heritage of Islam, they also contributed to the project of Islamic reform in the latter twentieth century. My work expands common understandings of 'national' modernisms of the post-World War II period by emphasizing a transnational network of conversations from France, to the U.S., to Iran, between artists and thinkers who saw in 'Eastern Spirituality' a corrective to the alienation of the modern West, and sought to use art for the preservation of the spiritual.
My writings have appeared in numerous numerous publications in English and Persian including e-flux and Herfeh: Honarmand and in exhibition catalogues by The Metropolitan Museum of Art, Grey Art Gallery (NYU), and MAXXI (Rome) among others. Most recently I published a book chapter titled "Between Illusion and Aspiration: Morteza Avini's Cinema and Theory of Global Revolution" in Global 1979: Geographies and Histories of the Iranian Revolution(Cambridge University Press, 2021).
Before my PhD, I worked as a filmmaker and made numerous documentaries including a series of essay-films on "The Aesthetic History of the Islamic Republic of Iran (1979-2009)", and a feature-length documentary called "The Fabulous Life and Thought of Ahmad Fardid" (with Ali Mirsepassi) about the intellectual and political legacy of Ahmad Fardid (1910-1994), an Islamic Heidggarian philosopher.
I hold an MA in Aesthetics and Art Theory (Center for Research in Modern European Philosophy, London) and an MA in Cultural Studies (Allameh Tabatabai University, Tehran).
Back to top