Stephanie Lee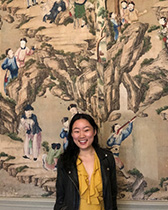 Stephanie researches early modern and modern printmaking. She studies how print media, reprographic technologies, and ephemera mediate regionalism along the Pacific rim in the first half of the twentieth century. Her dissertation asks how a middle-class visual culture of picture postcards, war photography, travel journals, and shinhanga prints served to construct and later fracture a co-constitutive aesthetics of bodies, landscape, and colonialism in the Japanese Empire. 
Before joining the doctoral program at Northwestern, she studied at Carleton College (Northfield, MN) and Utrecht University (the Netherlands). She held positions at the Newberry Library, Gana Gallery, and the Rijksmuseum, where she curated the exhibition, "Dreaming of China: Chinoiserie Prints and Porcelain in the Eighteenth-century." An article based on the topic is forthcoming in the Rijksmuseum Bulletin. 
Her research takes into account archival documents in French, Japanese, Dutch, and Korean. She is a Graduate Fellow in Legal Studies and affiliated with Asian Studies and Critical Theory clusters.
Back to top