Thadeus Dowad
Assistant Professor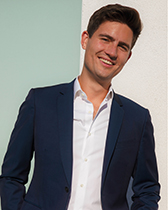 Thadeus Dowad specializes in the art and architectural history of the Ottoman Empire and Europe in the 18th and 19th centuries, with an emphasis on the transregional impacts of capitalism, slavery, revolutionary politics, and empire-building on metropolitan and colonial artistic cultures. He is particularly interested in the history of French imperialism in the Ottoman Middle East and North Africa as the framework for an integrated history of art before World War I. Drawing on scholarship in comparative literature, queer theory, and postcolonial studies, his research and teaching explore modes of global art history that challenge the paradigms of exchange, encounter, and translation that have dominated the field to date. Other areas of research and teaching include transcultural histories of portraiture; European and Ottoman Orientalisms; Ottoman photography; queerness in Islamic art; and the history of turquerie. 

His current book project, tentatively titled The Republic on the Nile: Art, Ottomans, and Revolutionary Colonialism in French-Occupied Egypt, is the first comprehensive art and architectural history of the French occupation of Egypt (1798-1801). Bringing together French, Ottoman, and Arabic archives, the book explores the entangled roles of French Revolutionary artists and Ottoman-Egyptian colonized actors in building France's first colonial possession in the Ottoman Empire. The study examines a wide range of French and Ottoman visual and material culture produced in Egypt during the occupation, including calligraphy, portrait painting, typography and print, architecture, and scientific drawing. 

Before receiving his PhD from UC Berkeley in 2022, he completed his M.A. in the History of Art from Williams College and his B.A. in the History of Art from the University of Pennsylvania. He was also a visiting graduate student in the History Department at Boğaziçi University in Istanbul. His research and language training have been supported by the Deutscher Akademischer Austauschdienst (DAAD), the American Research Institute in Turkey (ARIT), the Center for Advanced Study in the Visual Arts (CASVA) at the National Gallery of Art in Washington, D.C., and the Institut national d'histoire de l'art (INHA) in Paris.
Program areas: 18th and 19th century; Photography
Regional Specialization:
Europe; Middle East, and North Africa